Swimming Pool Remodel/Renovation
Never before have there been so many options to improve the looks and the efficiency of your existing swimming pool. In just the last 10 years, literally, dozens of new developments have made swimming pool ownership more enjoyable, less expensive, and easier than ever. Here are just a few of the options now available to you: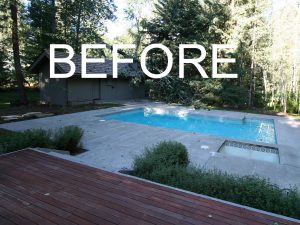 NEW MATERIALS, such as pavers, natural stone, mosaic designs, and polished interior finishes
MORE ENERGY SAVINGS with heat pumps, variable speed pumps, and LED lighting
LESS WORK with automatic cleaners, salt chlorine generators, and automated chemical control systems
NEW DESIGNS, such as beach entries, tanning ledges, and in-water tables & chairs
NEW WATER FEATURES, such as waterfalls, grottos, water arches, rain walls, and water curtains
Want to give your pool a brand-new look? We can do just about anything to change the look, style, and make it better than new. Whether it's a simple plaster replacement or a whole lot more, it's no problem. After serving Idaho for over 30 years, we've gotten pretty good at making old pools look beautiful again.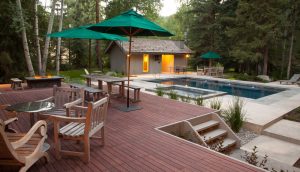 Here are some time saving and energy saving ideas to consider:
Energy-efficient heat pumps and solar heaters
Energy-efficient pumps, filters, and plumbing
Ozonators (to reduce the use of chlorine)
Mineral systems (to stabilize the water)
Saltwater based chlorine generators
Computerized automation systems
Built-in automatic pool covers
Robotic cleaners
For beautification or enhanced functionality, consider these ideas:
Long-life polished interior finishes
Waterfalls, water curtains, rain walls, weeping walls
Water arches, fountains, bubblers, aerators, scuppers
Natural stone or custom acrylic decking
Built-in tables, underwater seating
Tanning ledges, beach entries
Mosaics and all-tile finishes
Fiber optic & LED lighting
Raised gardens, grottos
Fire woks, fire pits
Built-in spa
To schedule a one-on-one consultation for YOUR renovation, please call our office at 208.288.2259.
Take a homeowner that wanted to bring the look and feel of their favorite resort pool to their backyard, an existing pool that was not rectangular in shape, was too deep in the shallow-end, an undersized, leaking spa and you have the makings of a challenging renovation.
The renovation required the removal of 24 ft of the pool wall to add a sun shelf and square the pool in order to add an automatic pool cover. The existing spa was partially demolished to make room for the new, raised spa.
Honed and gauged Oakley stone, native to the area, was used for the coping, spa cap, and the hidden automatic pool cover housing. Gauged Oakley stone was cut and used as waterline tile. The Oakley stone blends beautifully with the polished midnight interior of the pool and spa creating an elegant and pristine outdoor living area perfect for family recreation and entertainment. Seven LED lights in the pool and spa add soft light. Equipment: A single high-efficiency condensing boiler and high flow heat-exchangers on the pool and spa, computer controls, and an automatic pool cover. An 8in line was added so the pool could be a fire suppression source.
This Internationally award-winning project was also featured in the 2012 issue of Pool & Spa Outdoor magazine
---
SAVE TIME: Today's Pools Practically Take Care of Themselves!
From chemical management to spa automation to automatic cleaners, new breakthroughs have taken drudgery out of swimming pool ownership.
Alternatives to chlorine: this is a common request we hear from our customers.
UV and ozone, used in combination will produce what is known as Hydroxyl Radicals, a secondary disinfectant to chlorine. This multi-disinfectant approach provides a great way for owners to reduce chlorine levels.
Remote Automation
Turn on spa, heater, pumps, & lights from anywhere.
Monitor and manage chemicals automatically.
Accessible from anywhere – even your cell phone!
Salt systems
Uses plain old salt to create pure natural chlorine
Mineral System
Buffers the water & reduces chlorine demand
Polished type Interior
Stunningly beautiful; many styles to choose from.
---
SAVE ENERGY: "Go Green" and save money too!
The industry has been working hard to develop more cost-efficient pumps, filters, lights, heaters, and control systems. Altogether, today's swimming pools use about 60% less electricity than they did 20 years ago.
Heat Pump
Uses up to 80% less energy than gas heaters.
Some models can also cool the water on extra-hot days.
Extends the swimming season for just pennies a day
Multi-Speed and Variable speed pump
Uses up to 75% less electricity than single-speed pumps.
Runs longer at a low cost, keeping the pool cleaner.
High-Capacity, Low Resistance Filter
Requires less pressure to filter the water.
Lets pump run easily at a low-energy setting.
Automatic covers
One button keep kids, critters, and debris out of the pool
Helps retain the heat, so the heater works less.
Also reduces chemical usage